June 2020 Calendar With Holidays
The holiday is one thing that people can find a reason to celebrate. This gives happiness, positive energy, and relaxation. Life is concise, so enjoy life. You can improve your relationship and get closer to each other. June month has official and non-official holidays. We have incorporated the holidays in our calendar specific to the USA, UK, Canada, and Australia. You can use the June 2020 Calendar With Holidays for making a plan for the vacations.
You can check the days, dates holiday in a month. The most common use in the professional world is the calendar. Businesses, organizations, companies, and institutes use the calendar to manage their work, meetings, and plan. There are numerous ways to use the calendar. June 2020 calendar is available online. There are many ways of using a calendar. Download the calendar in three formats Word, PDF, and Jpg. June 2020 Printable Calendar is very useful and important for your homes and offices. You can make your work easier with these calendar templates. July 2020 Calendar With Holidays template is also available.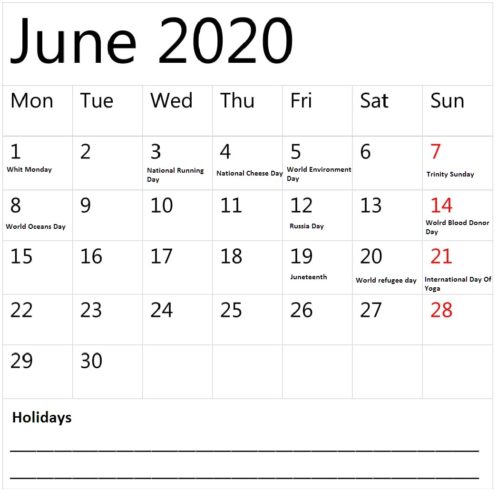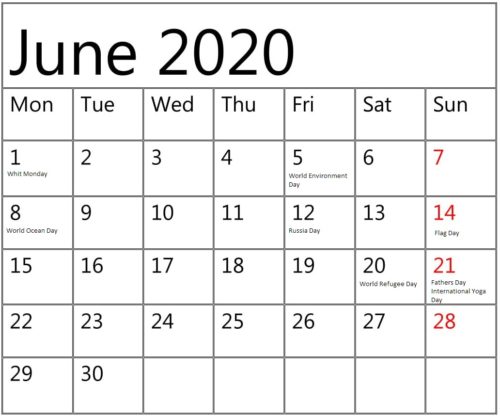 June 2020 Calendar With All Holidays
June is the sixth month of the year according to the Gregorian Calendar. This month comes in the middle of the year. Do you know that there is a bug which is named after the June Month? This bug is named June Beetle and is found in the Month of May and June in the USA. It survives on the young leaves of the plants and trees.
June month have many holidays like whit Monday, National Running Day, National Cheese Day, World Environment Day, World Oceans Day, World Day Against Child Labour, Russia Day, International Axe Throwing Day, World Blood Donor Day, Flag Day, Juneteenth, World Refugee Day, Father's Day, International Day of Yoga, and National Selfie Day,
Brief on some of the important and famous holidays is given hereunder:-
1. Whit Monday –  Whit Monday comes after the whit Sunday. It is also known as Pentecost and Monday of the Holy Spirit. The Day is not fixed; it is movable because it depends on Easter.
2. World Environment Day – This Day is created by the United Nations in 1972. It is celebrated every year on June 5. On this day, the UN encourages people to protect our environment.
3. Fathers Day – It is celebrated on the third Sunday of June Month. Fathers Day is celebrated to honour all fathers. This Day is express feeling towards fatherhood.
4. International Day Of Yoga – International Yoga day is celebrated annually on June 21. The first international Yoga day was celebrated on June 21, 2015. The Day is celebrated with great enthusiasm.
5. Flag Day – The official Flag day is observed on June 14. The flag was adopted by the United States On June 14, 1775. It is not an official Federal Holiday. Flag Day Originator is Bernard J. Cigrand.