Year 2022 Calendar
As we are heading towards the year 2022, our calendar will change. So, we have come up with a new 2022 Calendar with important dates, holidays, Printable 2022 Calendar, and many more. 
You can quickly grab the Year 2022 Calendar that is best compatible for all devices and available in the format of PDF, PNG, or JPEG images and excel.  
With our Calendar 2022 Template, you can also modify it according to your need. Here are dozens of 2022 Calendar Templates, choose your format and download with a single click. 
2022 CALENDAR
In the year 2022, we have 365 days, which means it's a non-leap year calendar. You will get it by downloading the instant 2022 Calendar. By clicking on the link below, you will get a highly customizable Blank 2022 Calendar in the format of PDF and PNG images.  
Our Printable Calendar 2022 is highly compatible with mostly PDF and image viewers so that your work will become easier. Even our 2022 Calendar Printable is versatile with many devices.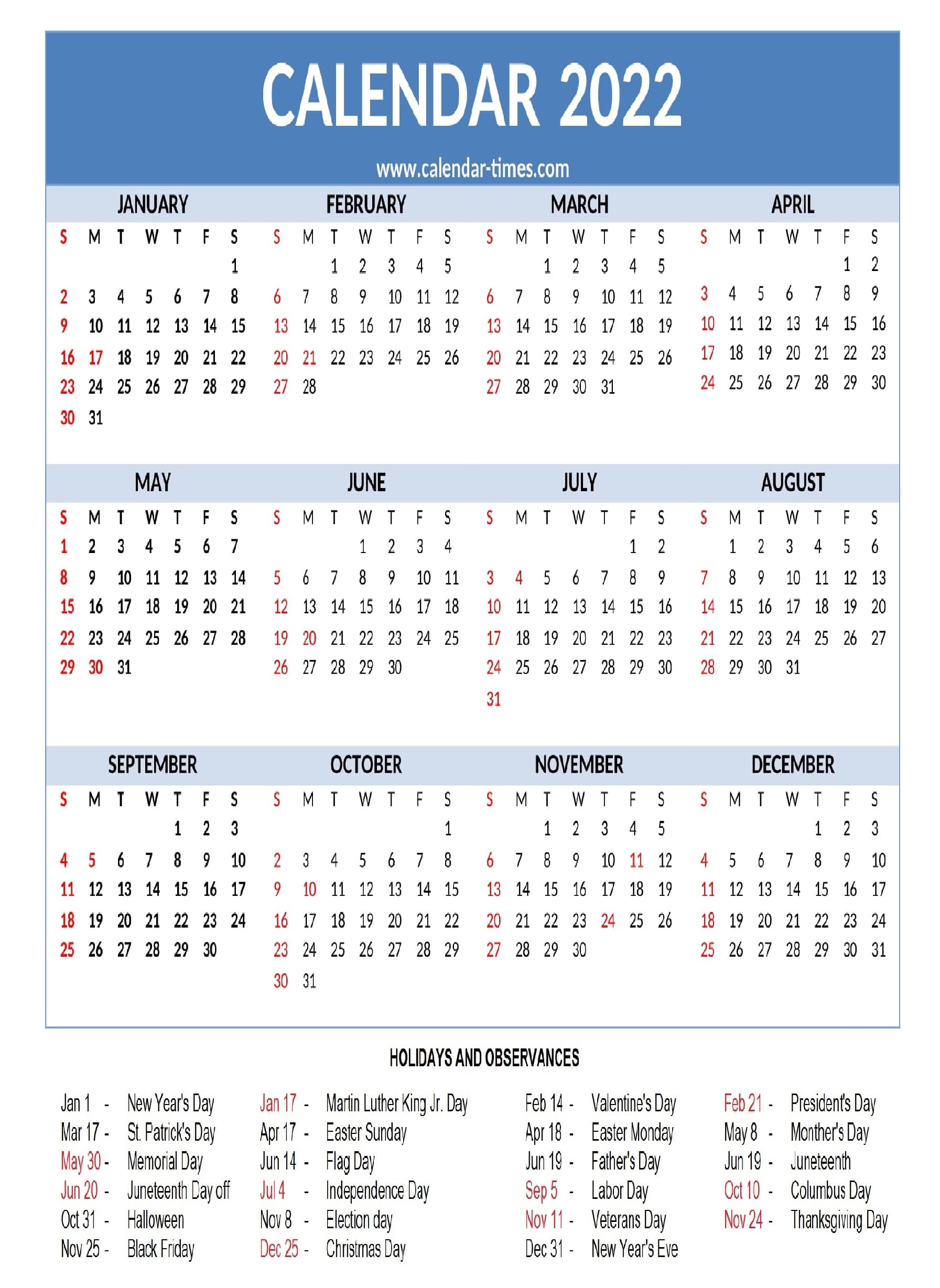 Most importantly, you can customize your 2022 calendar according to your needs as we provide an option to download Blank Calendar 2022. This Blank Calendar 2022 ranges from landscape to minimum designed formats and with only holiday calendar format. So, choose and download according to your requirements. 
If you want religious or spiritual dates mentioned on the calendar, click the download button and grab your customized 2022 calendar. With our calendar, you don't need to pinpoint the holidays or religious dates as already mentioned, and you will see all the months at a glance.  
DOWNLOAD PRINTABLE CALENDAR 2022 WITH HOLIDAYS
Here's come calendar 2022 with a set of holidays that needs a celebration and relaxation from the busy schedule. People wait for holidays to celebrate or complete their pending work. So, plan your holidays with our Printable Calendar 2022 with Holidays. 
2022 Yearly Calendar with Holidays has come up with many holidays or religious events that you need to mark to spend valuable time with your family or friends. We understand that holidays are the priceless thing that everyone wants. 
So, don't forget to mark or pinpoint the 2022 Calendar Printable with Holidays to complete your pending stuff and spend precious time with your family and friends.
| | | |
| --- | --- | --- |
| Jan 1 New Year's Day | May 30 Memorial Day | Oct 31 Halloween |
| Jan 17 Martin Luther King Jr. Day | Jun 14 Flag Day | Nov 8 Election Day |
| Feb 14 Valentine's Day | Jun 19 Father's Day | Nov 11 Veterans Day |
| Feb 21 Presidents' Day | Jun 19 Juneteenth | Nov 24 Thanksgiving Day |
| Mar 17 St. Patrick's Day | Jun 20 'Juneteenth' day off | Nov 25 Black Friday |
| Apr 17 Easter Sunday | Jul 4 Independence Day | Dec 25 Christmas Day |
| Apr 18 Easter Monday | Sep 5 Labor Day | Dec 26 Christmas Day day off |
| May 8 Mother's Day | Oct 10 Columbus Day | Dec 31 New year's Eve |
Now, let's look at holidays and their dates in the 2022 calendar. Don't forget to mark it and plan your day accordingly. 
So, here we have mentioned some critical dates that need to be said and highlighted as a celebration day of 2022. 
CONCLUSION
Don't miss out on any holiday dates of the 2022 Yearly Calendar. So, mark the Monthly Calendar 2022 and plan accordingly. Just grab your Printable 2022 Calendar by clicking on the download icon for free. 
And you know you are just a click away. 
Have an Awesome 2022 year ahead!