Blank October 2022 Calendar Printable
Hello Everyone! Welcome again to the one-stop shop for your free Blank October 2022 Calendar. Jumpstart the Month with a refreshing new start and an October 2022 Printable Calendar. The best part to use a free calendar is to be organized, blog the schedules, create a new plan for the month for you and your family, and much more.
Calendars allow us to make a complete overview of the new month easily. These Printable October 2022 Calendars will be coming in PDF format. These printable Calendars can be used and get printed at no cost (paper copies of any number). Please do share with your friends these Calendars using this. Check out next month's template November 2022 Calendar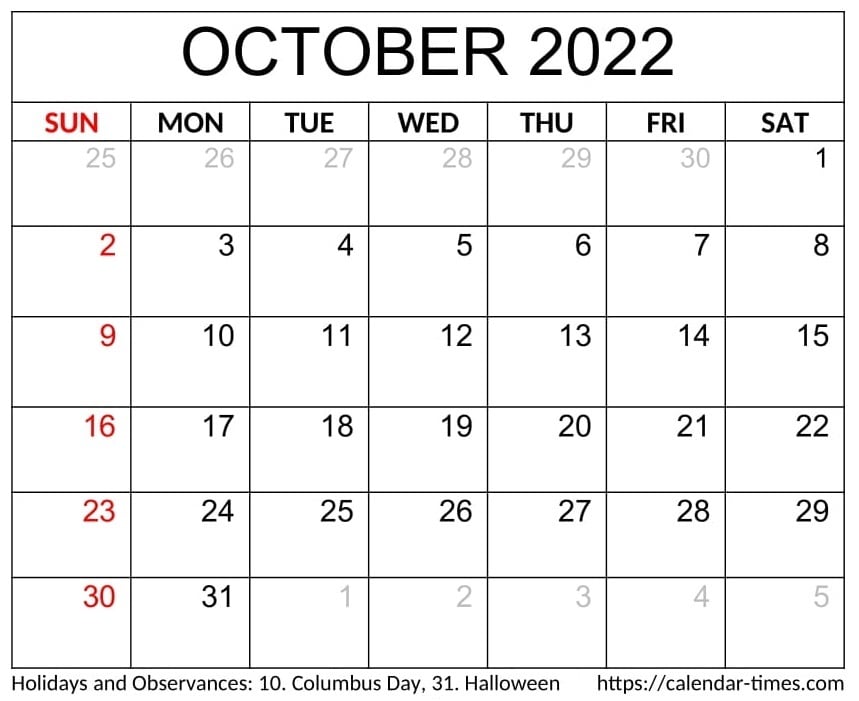 October 2022 Calendar Printable
The spring season is associated with October in the parts of the Southern Hemisphere and autumn in the parts of the Northern Hemisphere.
Birthstones for October are Tourmaline and Opal. In the month of October zodiac signs Libra (until 22 October) and Scorpio (23 October onwards). October and (occasionally November first week) are the only times in the year during all of the BIG FOUR major biggest professional Sports leagues in the Canada and U.S schedule their games.
The Four Professional Sports leagues in U.S and Canada are National Basketball, National Hockey League, National Football League, and Major League Baseball.
October 2022 Calendar With Holidays
Major festivals and Holidays in October are Gandhi Jayanti ( October 2nd), Dusshera ( October 5th), US Indigenous Day ( 10th October), Deepawali ( October 24th), and Halloween Day ( October 31st).
Special days in October
Gandhi Jayanti – 2nd of October is celebrated every year as the birthday of Mohandas Karamchand Gandhi famously known as Father of the Nation or as Mahatma Gandhi he led the freedom movement of India with other many leaders against British rule India.
Dusshera – 5th October, Vijayadashami properly known as Dusshera also is a Hindus major festival that is celebrated in India, Nepal, and Hindus wherever around the world. This festival symbolizes the victory of god over demons (good over evil).
US Indigenous Day – 10th of October, U.S Indigenous Day this year 2022 is celebrated on the Second Monday of October to Honor the people's culture and History of the American Natives. This day is celebrated to center around the reflection of their Tribal Root and stories which hurt but gives them to strengthen their whole communities.
Deepawali – 24th of October, The Festival of Lights known as Diwali this Year in 2022 is celebrated on October 24th.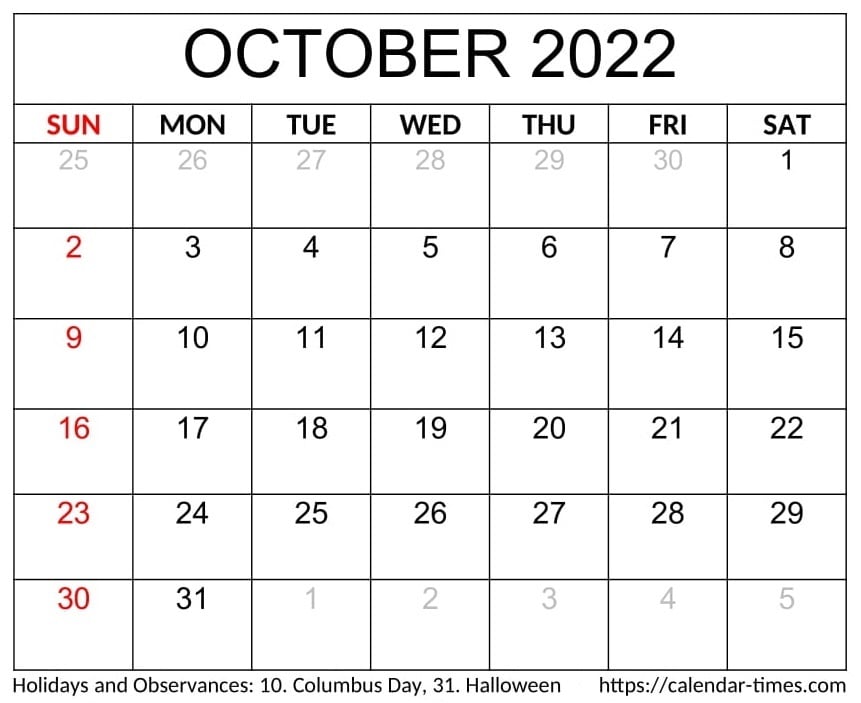 These festivals are which Hindus, Sikhs, Jains, and a few Buddhists celebrate.
This festival lasts up to five days usually and this is celebrated during the month of Kartika according to Hindu lunisolar.
This festival is associated with goddess Laxmi of prosperity and God Ganesha the Lord of wisdom and the obstacles removed.
Furthermore, this day is celebrated for the day when Lord Rama is returned to his own kingdom in Ayodhya with his beloved Wife Sita and with his brother Lakshmana serving their 14 years of exile and defeating Ravana the Demon of Lanka.
Halloween Day – 31st of October, Halloween which is very less known commonly as all Halloween is celebrated and observed in most the countries on 31st of October the Eve of the Western Christian feast All Hallows' Day.
It is believed that on this day souls of the all dead people will be returned to their houses so all the people are dressed in different costumes and they lit bonfires so they can ward off the spirits.