June July 2020 Calendar
Our June July 2020 Calendar provides you an option to print the two-month calendar on a single page. You can choose from various options of Printable June July 2020 Calendar provided below and click on the link to download it and take a print out. These calendars also come with the list of holidays and observances in June and July 2020.
June and July are the summer months in the Northern Hemisphere, including the United States. Therefore, you may be planning for the summer vacations this 2020 with your family and loved ones. This Two-month Calendar will give you a good insight into the upcoming events and help you plan your work/vacations in a more organized way.
Sometimes, our plans or schedules stretch for over one month, and thus our lined-up activities may include some days of next month. It would be occasionally inconvenient to refer to the separate two calendars, and, in that case, the two-month schedule in a single page comes handy and serves one's purpose.
June And July 2020 Calendar
June July 2020 Calendar is a designed calendar having two consecutive months June 2020 and July 2020 in a landscape format. Similarly, our website has many such combinations of two successive months calendar, and we are trying our best to add more of these in our collection.
The calendars available here, including June 2020 Blank Calendar, are free to download and are printable.  One need not refer to a mobile, laptop, or any electronic media, as the printed calendar comes with a benefit of easy and ready reference and has all the benefits of Paper Calendar. One can easily mark and plan one's personal, social, official events, or schedules.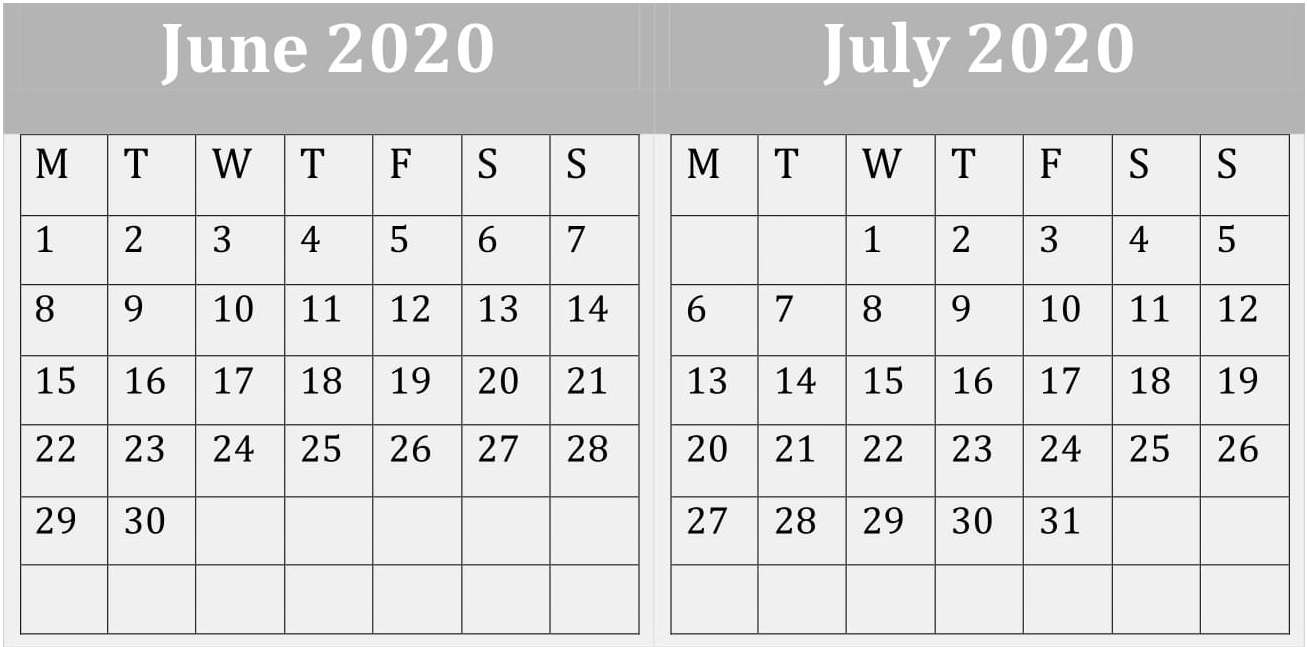 Printable June and July 2020 Calendar
June Month
June is the sixth month of the calendar year and is the second month of the year that has 30 days after April. June follows May and precedes July. June month is associated with young ones, new beginnings, partnerships, marriage, etc. June born Gemini persons, among all zodiacs, are very talkative persons. However, they are intellectual, people with a golden heart, and are the best friends.
It isn't easy to understand Gemini persons completely since they exhibit dual personality. Usually, the more creative mind is restless, as the mind keeps racing thoughts and ideas. The same applies to June born people who are creative and have an anxious mind. These people are friendly to be around and are very social.
These people are very intuitive and have a good sixth sense. They are good at face reading, are brutally honest, and experience many mood swings. They are not one with a sound immune system and are prone to seasonal colds. Besides being social, these people are hilarious, too, and remain confused about their choices.
July Month
July is the seventh month of the calendar year and has 31 days. It follows June and precedes August. July born Cancerians are best at organizing work, and family is everything to them. July born woman is the best woman to marry. They are the ones with excellent parenting skills and aim for financial security.
These people are the most emotional among all zodiacs and can be easily hurt. They have a good fashion sense and give good advice to you in your shopping.