SEPTEMBER 2022 CALENDAR
September 2022 Calendar which you can print at your workstation, home, or school computers and is available in PDF, Word, and Excel format. The free calendar is excellent to line up the schedules, organize the plans, map out to-dos, set up goals, and further many more things. At no charge cost, you can print (as many copies) of the calendar.
Select your Monday or Sunday in Calendar and start planning an ambitious year ahead. Come and jump-start with our free download Printable September 2022 Calendar.
Free Download Next Month template – October 2022 Calendar
SEPTEMBER MONTH
The ninth month of the Year with the length of 30 days. With a new start of the academic year in half of the northern hemispheric countries. The ninth month in the astrological calendar with Aries/Mars at the end and Virgo & Libra as its zodiac sign and Sapphire as its birthstone.
Beautiful birth flowers for this ninth month are Aster / Forgot me not & morning glory. Special days in September are Teacher's Day, world ozone day, Internal Democracy Day, World Sexuality Day, and Labor Day.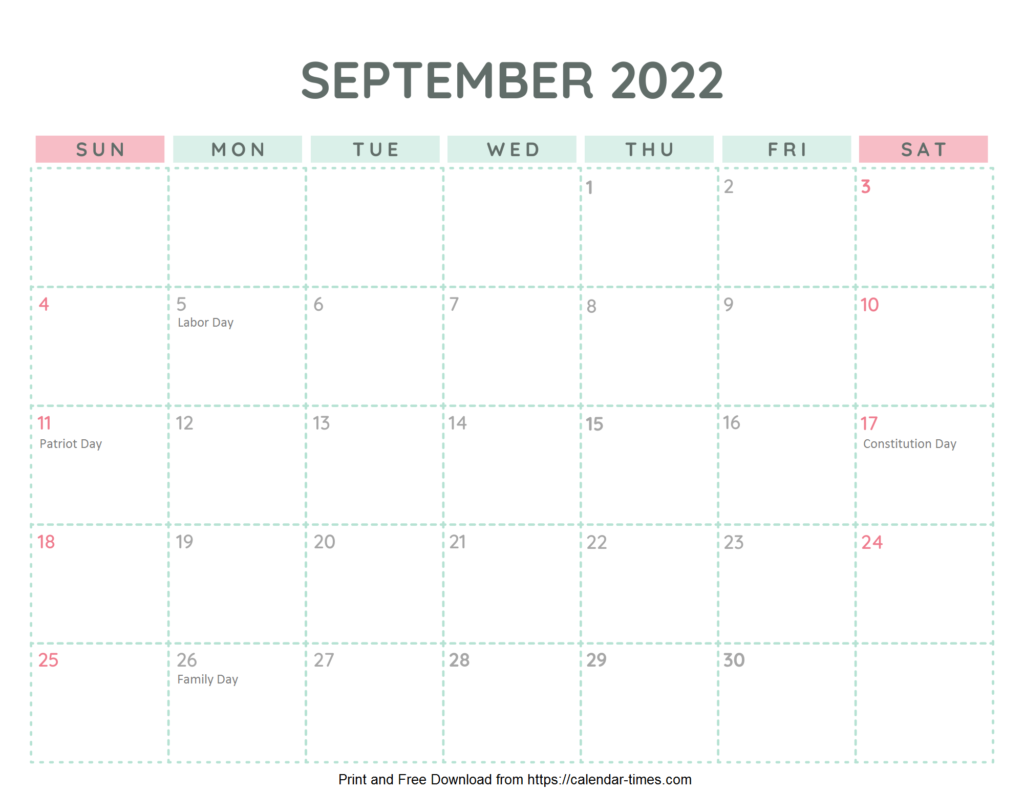 SEPTEMBER HOLIDAYS
World Sexuality Day – 4th of September is celebrated as World Sexual day since 2010. The day is celebrated to create awareness and to encourage the community people to speak about their sexuality & sex.
Labor Day – 5th day of September is considered Labors day when the trade unions in the late 19th century grew when a group of unionists and trade has chosen a no of days to celebrate labor so the September holiday has been declared Labor Day.
Teacher's Day – 5th September is a day to Honor and appreciate the teachers for their great contribution to society and general communities.
International day of Democracy – September 15th is celebrated as International Day of Democracy in the whole world each year. The Day gives us an opportunity to participate and review the state democracy and complete members functioning around the world.
World Ozone day – 16th of September which is celebrated as World Ozone day or International day to preserve the ozone layer is designed by the UN General Assembly on which all the nations signed an MP ( Montreal Protocol) on Substances which will Deplete the Layer Ozone.