August 2021 Calendar
These days people are engaged in their lifestyles, it might not be easy for them to memorize their valuable moments of life. Therefore, here we are to offer the latest selection of the August 2021 Calendar that helps to remember precious dates in instants. You can customize these calendars according to your calendar need with a variety of striking features. We have a free August 2021 Blank Calendar where you can check and examine your important events. 
You can download our August 2021 Printable Calendar and print them as many as you want. Our calendar website is dedicated to the visitors, who are searching to meet their Free Printable August 2021 Calendar needs. In our calendars, we bring you interesting information of months and dates with some beliefs and historical facts of the month.
Explore the range of our calendars and get benefits for free. These Calendars are designed to register your important monthly events like meetings, appointments, birthdays, anniversaries. Give a try to our August 2021 Calendar with holidays now and get an affordable way to get rid of the troubles of misremembering the important days of your life.
Read more to know about the historical background and interesting facts about August month.
Check out next month templates September 2021 Calendar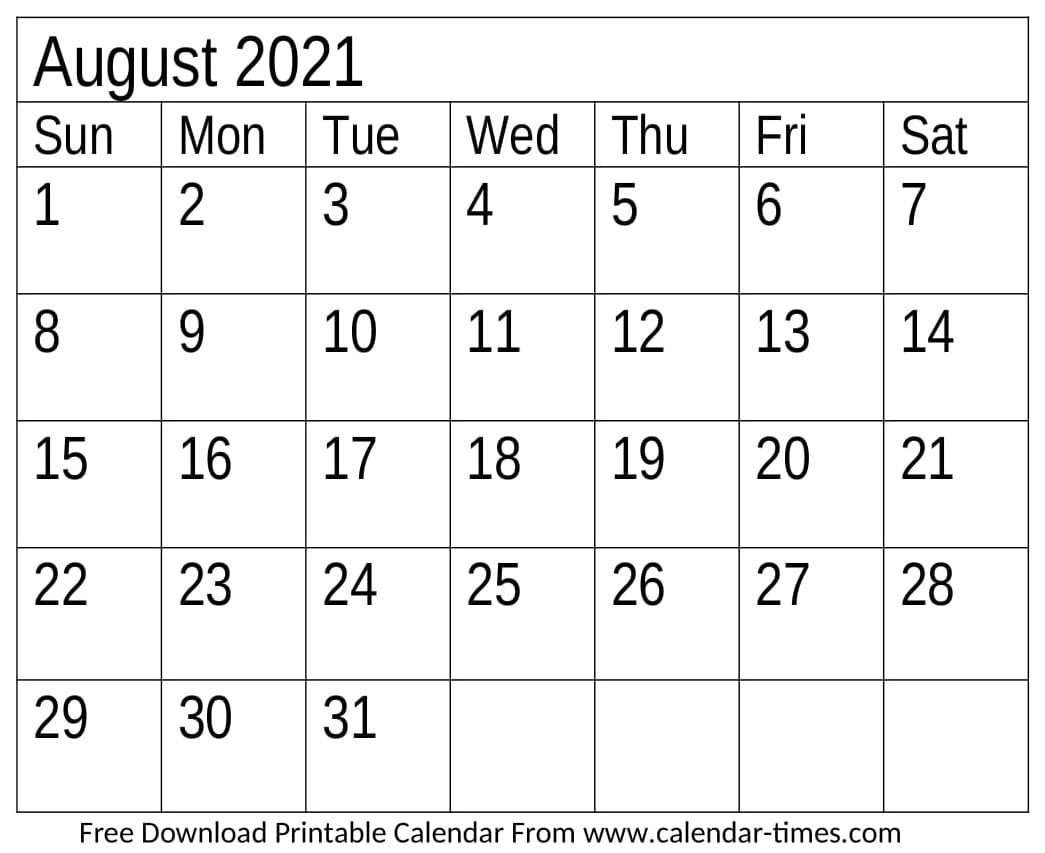 August 2021 Blank Calendar
August is a time to admire good harvests and a good summer! Several religions call August the harvest month or consider it the perfect time of harvest.
During 753 BC it was situated on the sixth position in the original ten-month Roman calendar. Therefore, it was earlier named Sextilis, this Latin word means "the sixth month." Through 700 BC, when January and February were added to the Roman calendar the Sextilis was renamed as "August" after the first Roman Emperor "Augustus". month pushed to the eighth position of the new Roman Calendar. Moreover, the month is the busiest in America as it is the end of summer vacation. 
The birthstones are peridot and onyx, and both symbolize strength and power. Peridot is a green colour stone found in the lava of Hawaiian volcanoes. Onyx is a dark black stone and used for removing negative vibes in human life.
August 2021 Calendar Blank
The standards flower of August is gladiolus and poppy. Poppies are a rich source of opium and signify peace. People use it to have a sound sleep. On the other hand, gladiolus is a sword lily that represents power and strength. 
Independence Day – Indian Independence Day is celebrated every 15th of August as the nation got independence from the Britishers on August 15, 1997.
Victory Day – Victory Day is the anniversary of the Allies' triumph over Japan in the 2nd World War. 
Assumption Day – The famous Catholic festival that marks the arrival of Lord Jesus's mother into heaven. 
Raksha Bandhan – Also known as the festival of brother and sister, Raksha Bandhan is the Indian festival where all the brothers and sisters share love for each other.