September 2020 Calendar With Holidays
Those who are looking for the holidays this September may find our September 2020 Calendar with Holidays very useful. We have listed all the main holidays and popular observances in the Calendar. These holidays will guide you in planning your work accordingly. The Calendar will also enable you to plan your vacations. We have a beautiful collection of monthly and yearly calendars, and we are quite hopeful that you will like the same.
September was earlier the seventh month of the Calendar year, but after addition of January and February in a year, it became the ninth month. September is also called the Harvest Month. The month has thirty days. In 2020, there are only four Saturdays and Sundays, whereas the previous month August has five each. In this article, we will provide you with a brief on the popular holidays and observances followed in September.
International Day of Charity, VJ Day, Labour Day, Brazil Independence Day, International Literacy Day, Patriot Day or the 911 Remembrance, International Day of Peace, Constitution/Citizenship Day, World Maritime Day, World Tourism Day and World Rabies Day are some of the popular observances followed in September. Other observances include Suicide Prevention Day, Grandparents Day and International Day of Sign Languages.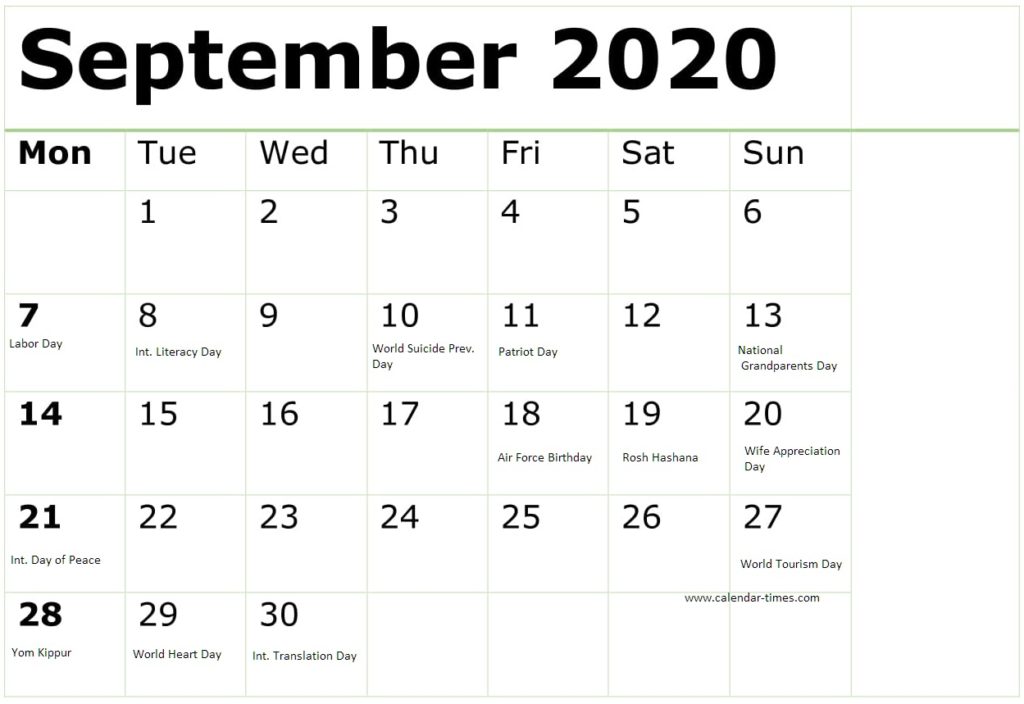 September 2020 Calendar With National Holidays
Here, we will discuss some of these holidays and inform you of their significance. Labour Day is celebrated in Canada and the United States on the first Monday of September, and it is celebrated in some countries on May 1 and is synonymous to International Workers Day. This year, Labour Day falls on September 7. The Day celebrates the achievements of workers and is observed as Annual Holiday. Patriot Day is celebrated in remembrance of the September 11 attacks by the terrorists in the United States.
Grandparents Day (September 13) is observed and celebrated in honour of our grandparents recognising their contribution to our lives. Constitution/Citizenship Day is celebrated in commemoration of the adoption of the Constitution by the United States. International Day of Peace, which is observed on September 21 and declared as a holiday by the United Nations, seeks to promote peace amongst people and the nations.
2020 Calendar With Holidays
Brazil celebrates the Day commemorating its independence from Portugal on September 7. Other than Costa Rica, Nicaragua and Honduras, the states which celebrate its Independence Day on September 15 every year include Guatemala and El Salvador. International Day of Democracy is also observed on September 15. Some of the weird holidays observed in September include National Lazy Mom's Day, National Hug Your Hound Day Big Whopper Liar Day.
We have a huge collection of monthly and yearly calendars that include holidays calendar, calendar templates, cute calendars, planners and schedules. We are trying to make our site a single platform where one will find a complete solution for all calendar needs/requirements. We request all our readers to recommend the website to your friends, relatives and colleagues. Please keep visiting our site for beautiful, elegant and designer calendars.
If you want us to add any other category in our calendars' collection, do mention in the comment box. Also, please provide your valuable feedback to us, which will help us in improving our services. Your appreciation motivates us, so keep motivating us too. So, start using the calendars by downloading the same from our site and start planning your life. With dedication and hard work, you will surely get success in the end. Keep progressing.