Printable October 2020 Calendar
Our Printable October 2020 calendar, can prove to be a useful tool for the which will help you to maximize your day and make it more useful. The calendar is a periodic presentation showing the day, date, month, and year. A schedule is one of the essential tools in time management. We cannot imagine a place that does not have it or a person who does not use it. Therefore, we have designed specifically for our readers monthly and annual calendars.
Here you can refer to the October 2020 printable calendar, which can help you in managing your schedule, appointments, meetings, planning your holidays, and more. Our free printable October 2020 calendar will ensure that you do not limit your tasks and specify a particular date and time on your to-do list. Also, keeping specific dates and times aside for your work will help you keep up with your activities. Start using the calendar and transform your advance, worrying in advance thinking and planning.
The free printable October 2020 calendar can prove to be a useful tool for you, which will help you to maximize your day and make it more useful. It also helps us to be accountable. Planning your days well and spending them productively will provide you with some personal quality time that can be spent with your loved ones.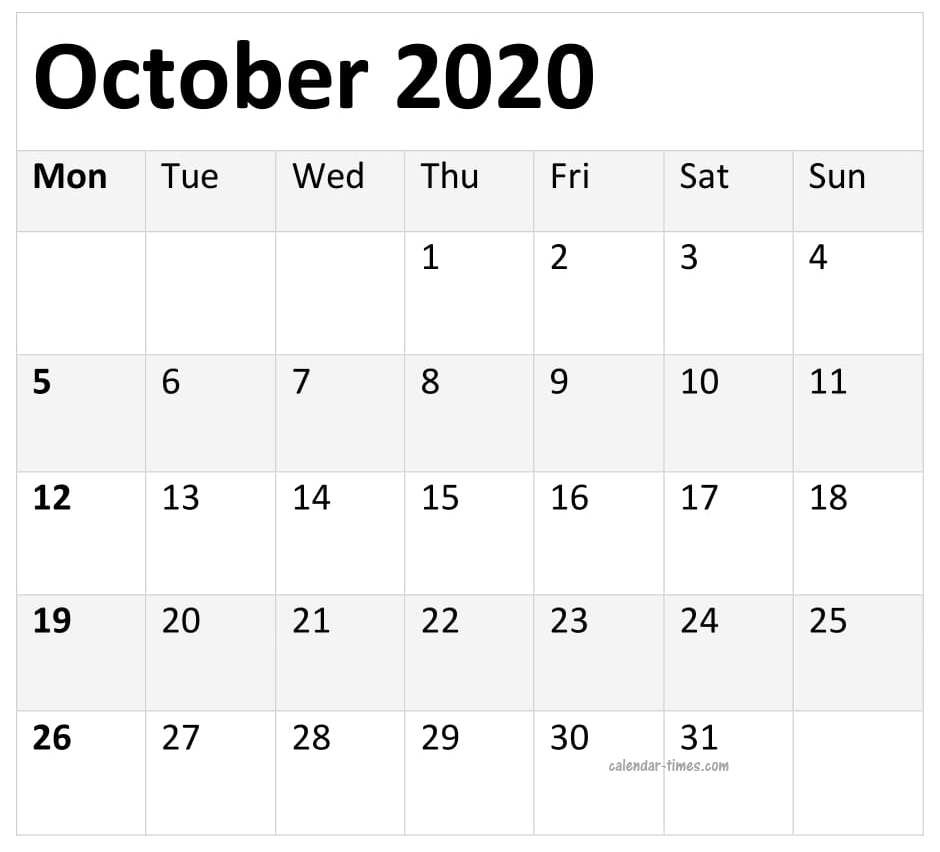 Printable 2020 Calendar
The calendars available here, including the October 2020 Blanc calendar, are free to download and are printable. Not to mention mobile, laptop, or any electronic media, as the printed calendar comes with the benefit of natural and ready reference and has all the benefits of a paper calendar. One can easily mark and plan one's personal, social, official events, or event.
Our October Calendar 2020 is an effort to provide you with a designed, easy to use, and understandable calendar. There is enough space in the calendar for your comments. You can highlight essential days, meetings, etc. in it. The calendar will give you an idea of how your day is structured and make you disciplined.
Printable Calendar 2020
October Facts – There are many facts of October – there are eight months in the Roman calendar, and this is the tenth month in the Gregorian calendar. The Anglo-Saxena October Month is called Wintirfyllith" which means the completion of winter as it was the first full moon of the winter season.
The birthstone for October are tourmaline and opal. Tourmaline displays a full spectrum of colors like yellow, pink, blue, red, green, black, or brown and is believed to help you stay calm under pressure, bring peace and tranquillity, and anger and jealousy. We defeat emotions. Opals display different colors (green, white, yellow, blue, pink, etc.), depending on the conditions under which they were made. Opal gemstones are believed to cure eye infections, strengthen memory, calm nerves, and enhance creativity.
October born people have amazing born facts – They are die-hard romantic personality. They are charming and calm people. People born in this month are collected and prepared. They rarely inflict their feelings, anger, or concerns on those around them. Whether they have money or are lacking in it, people born in October love luxurious things. They are smart and intelligent people.