January 2021 Calendar
The name of January comes from the Latin word Lanuarius, Janus, which means the god of beginnings and traditions in Roman Mythology. It has 31 days and is the first or beginning month of the year. Originally January Calendar has 30 days when at begging it was added to the Roman Calendar, but In 46 BCE, Julius Caesar added one day extra and make it 31 days. It is the month when hungry Wolves came hunting at people's Doors; therefore, Anglo-Saxons the gives the name "Wulfmonth" to this month.
What Types Of Calendars We Available To You?
If you are looking for elegant and various types of calendars and find difficulty in finding the right calendar template or planner, then you are in the right place. We are creating Monthly Calendar templates for 2021, and our efforts make our life more comfortable and relaxed. You may download Printable Calendar from our website.
Check out next month calendar for making a plan in advance February 2021 Calendar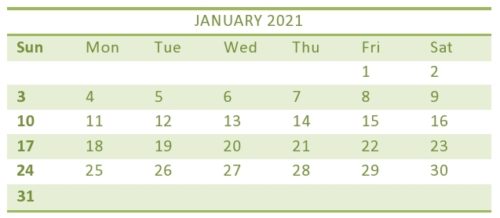 We are also preparing Blank Calendar, which is a type of personalized calendar and helps you make the list of our target goals, meetings, and any official and unofficial work. Downloading does not require any fee; it means you can use these calendars, templates, and planners for free. We believed that simplicity is the best one that's you will see simplicity and elegance in our work.
Once you download the calendar, you may save it on your mobile wallpaper, and another option is that you may take out the printout of these calendars and stick them in the most convenient places from where you can easily take the quick recap. I am sure that you like our calendars, planner, and template design.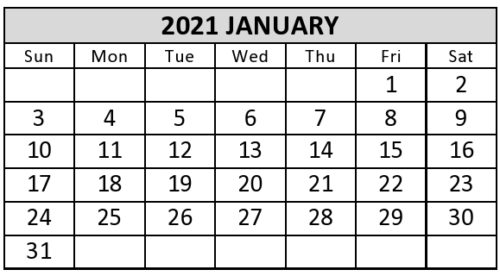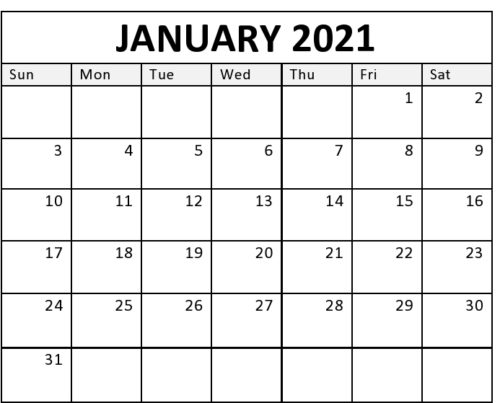 International New Year's Day – According to the Gregorian Calendar, New Year is the first day of the year. It always comes after the one week of Previous Christmas Day. Except for Israel, it is a public holiday all over the world. Some people are still using the Julian calendar; they celebrate New Year on 14th January. It is the beginning of the day of the year; people believe that it is the holy day of due to this mostly starts their new work on that day.
Australia Day – When India celebrates Republic day on 26th January the same day, Australia celebrates Australia Day. Australia Day is a Public Holiday and celebrates every year in the whole of Australia. This day commemorates since 1788 when the First Fleet of British Ships arrived at Port Jackson of New South Wales and hoisted the flag of Great Britain by Captain Arthur Phillip. If anyhow Australia Day lies on Saturday or Sunday, the holiday will be a shift to Monday.
Makar Sankranti – Makar Sankranti also called "Mela," "Bhogi," "Maghi," Magha." It is a Hindus festival that celebrates all over India. This day is mainly dedicated to Sun. It comes on every 14th of January. This festival is celebrated in various states with different names and methods. Like in Punjab, it is called Lohri, whereas in Uttar Pradesh is called Kicheri, South India Pongal is celebrated.